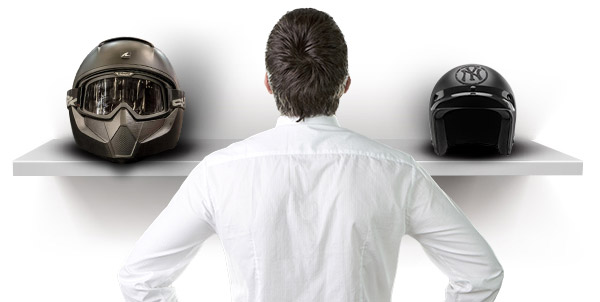 Looking to buy a motorcycle helmet on iCasque.co.uk but don't know which size to go for? Wondering how to choose a size without actually trying helmets on?

Like a pair of shoes, a bike helmet can be cut differently from one model to another. It is possible that you're a size S in one brand and a size M in another brand. Don't worry, in that case iCasque.co.uk will mention if a certain helmet model has a different size chart to the standard.

Some brands offer helmets with several sizes of shells. What is a helmet shell? The outer shell of a helmet is called the hull. It provides the first layer of protection for your motorcycle helmet.

The inner shell of a motorcycle helmet ensures your comfort as well as the next layer of protection for your head.

Each rider is unique, so every detail is important. For example, if you wear glasses, be aware that some brands develop cheek pads with grooves, specifically designed to accommodate the temples.

Also, keep in mind that a motorcycle helmet adapts over time. When you purchase your helmet, the cheek pads will be new and will press firmly on your face. But once your helmet has been worn several times, the internal foam will settle and morph to the shape of your face, providing you with the best possible comfort.

Armed with this additional information, you are now ready to get out there and choose your helmet and work out your size without trying it on at iCasque.co.uk.


Choose the Size of Your Motorcycle Helmet Without Trying it on

When purchasing your motorcycle helmet some thought is required. Each head is unique, and each rider's needs are unique; and it is very likely that one helmet style or another is going to be better adapted to your requirements, while another may be completely unsuitable. Choosing the right helmet can be difficult, but feel free to talk to an iCasque.co.uk advisor who can advise you on the most suitable model for your riding style.


Start by measuring your head circumference with a measuring tape

, allowing you to determine the shell size of your helmet. Measure well above your ears.
Then see our Size Guide for further help.

Are you between two helmet sizes?

Is your head circumference 58.5 cm for example? Take the smaller size because your motorcycle helmet cheek pads will compact over time.

If you wear glasses,

open-face helmets and modular helmets are going to be a better suit for you. However some full-face models are still appropriate.
Your glasses must be able to be put on and removed without difficulty.

If you're hesitating between several types of helmets

know that full-face helmets, as their name suggests, are the most protective. Finally, how you use your two­-wheeler will also help you determine the type of helmet that is most appropriate for you. Refer to the descriptions of our motorcycle helmets on the page

"How to choose a motorcycle helmet"

for more information about choosing your helmet.
> Children's helmet sizes
You Just Got Your Motorcycle Helmet. Try it Now:
When you try on a motorcycle helmet

, close and tighten the chinstrap.

Move and turn your head

, your helmet should follow your movements without delay and shouldn't return to the direction of your shoulders. It should not move on your head.

Wear it on your head for a few minutes

. If no pain appears, if you do not have a red mark on your forehead after you remove it and if you don't feel any discomfort, it's because you have chosen the right size helmet and a suitable model. Otherwise, any discomfort or pain is synonymous with wrong size or wrong model, because all motorcycle helmets do not fit all heads.

Do your cheek pads seem too tight?

It is a new helmet, so it's quite normal. The cheek pads will settle over time and morph to perfectly fit your face.

Despite taking all precautions, after trying on your motorcycle helmet at home, you may not like it for various reasons. In that case, iCasque.co.uk will exchange or refund your motorcycle helmet without quibbles.
Visit our

Help

section to read about the

conditions of exchanges and returns

at iCasque.co.uk.
Still have a question? Do not hesitate to contact us, our team of customer service advisors will do everything they can to help you choose your motorcycle helmet.


Wearing a Helmet is Mandatory

Your motorcycle helmet is the most valuable protection you have in the unlikely event of a crash. Do not overlook this essential element of security, as mandated by various regulations.

Rule 83 of the Highway Code:
On all journeys, the rider and pillion passenger on a motorcycle, scooter or moped MUST wear a protective helmet. This does not apply to a follower of the Sikh religion while wearing a turban. Helmets MUST comply with the Regulations and they MUST be fastened securely. Riders and passengers of motor tricycles and quadricycles, also called quadbikes, should also wear a protective helmet. Before each journey check that your helmet visor is clean and in good condition.