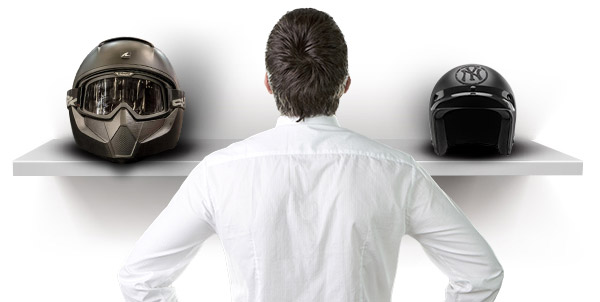 Vous souhaitez acheter un casque moto sur iCasque.com, mais vous ne connaissez pas votre taille de casque moto et vous vous demandez comment choisir sa taille sans l'essayer.

Comme pour une paire de chaussures, un casque moto peut tailler différemment d'un motard à un autre. Il est possible que vous fassiez une taille S dans une marque et que dans une autre marque de casque moto vous fassiez une taille M. Pas de panique, iCasque.com vous précise sur chaque fiche produit si un modèle de casque a une grille des tailles particulière.

Certaines marques proposent des casques avec plusieurs tailles de calotte. Qu'est-ce qu'une calotte de casque ? La calotte externe d'un casque est ce qu'on appelle la coque. Elle assure le premier niveau de protection de votre casque moto.

La calotte interne d'un casque moto, également appelée calotin, se situe donc à l'intérieur, et assure votre confort, votre protection ainsi que le maintien de votre tête.

Plus un casque moto a de taille de calottes (4 au maximum), plus il sera adapté à votre tête et sera moins volumineux.

Chaque motard est unique, le moindre détail a donc son importance. Si par exemple, vous portez des lunettes de vue, sachez que certaines marques développent des mousses de joues avec découpes, spécialement étudiées pour le passage des lunettes.

Ayez également en tête le fait qu'un casque moto "se fait" avec le temps. Ainsi, à l'achat de votre casque moto, les mousses de joues étant neuves, ces dernières vous maintiendront fermement le visage. Mais une fois votre casque moto porté à plusieurs reprises, vos mousses internes vont se tasser, pour se faire parfaitement à votre morphologie et vous offrir ainsi le meilleur confort possible.

Armé de ces informations supplémentaires, vous voilà prêt à suivre nos conseils afin de choisir votre casque moto sans l'essayer sur iCasque.com.


Choose the Size of Your Motorcycle Helmet Without Trying it on

When purchasing your motorcycle helmet some thought is required. Each head is unique, and each rider's needs are unique; and it is very likely that one helmet style or another is going to be better adapted to your requirements, while another may be completely unsuitable. Choosing the right helmet can be difficult, but feel free to talk to an iCasque.co.uk advisor who can advise you on the most suitable model for your riding style.


Commencez par mesurer votre tour de tête à l'aide d'un mètre ruban

, ce qui vous permettra de déterminer la taille de calotte de votre casque. Mesurer en passant bien au dessus de vos oreilles, celles-ci entrant dans votre casque moto !
Puis, reportez-vous au guide des tailles ci-dessous.

Are you between two helmet sizes?

Is your head circumference 58.5 cm for example? Take the smaller size because your motorcycle helmet cheek pads will compact over time.

Si vous portez des lunettes

sachez que les casques jets et modulables sont les plus adaptés. Certains intégraux le sont également, présentant des découpes spécifiques dans leurs mousses de joues. Privilégiez les branches de lunettes fines.
Mettre vos lunettes comme les enlever doit se faire sans difficulté.

If you're hesitating between several types of helmets

know that full-face helmets, as their name suggests, are the most protective. Finally, how you use your two­-wheeler will also help you determine the type of helmet that is most appropriate for you. Refer to the descriptions of our motorcycle helmets on the page

"How to choose a motorcycle helmet"

for more information about choosing your helmet.
> Children's helmet sizes
You Just Got Your Motorcycle Helmet. Try it Now:
When you try on a motorcycle helmet

, close and tighten the chinstrap.

Move and turn your head

, your helmet should follow your movements without delay and shouldn't return to the direction of your shoulders. It should not move on your head.

Wear it on your head for a few minutes

. If no pain appears, if you do not have a red mark on your forehead after you remove it and if you don't feel any discomfort, it's because you have chosen the right size helmet and a suitable model. Otherwise, any discomfort or pain is synonymous with wrong size or wrong model, because all motorcycle helmets do not fit all heads.

Do your cheek pads seem too tight?

It is a new helmet, so it's quite normal. The cheek pads will settle over time and morph to perfectly fit your face.

Malgré toutes les précautions prises, votre casque moto, après l'avoir essayé chez vous, ne vous convient pas pour différentes raisons ? iCasque.com vous échange ou vous rembourse votre casque moto en toute facilité.

Rendez-vous sur notre page

Aide

pour lire les

conditions d'échange et de retour

sur iCasque.com.

Une question subsiste ? N'hésitez pas à nous contacter, notre équipe de conseillers du service client vous conseillera dans l'achat de votre casque moto.


Wearing a Helmet is Mandatory



Votre casque moto est votre seule protection en cas de choc. Ne négligez pas cet élément de sécurité indispensable, comme le rappelle la réglementation en vigueur :

Article R431-1
Modifié par Décret n°2006-46 du 13 janvier 2006 - art. 4 JORF 15 janvier 2006
En circulation, tout conducteur ou passager d'une motocyclette, d'un tricycle à moteur, d'un quadricycle à moteur ou d'un cyclomoteur doit être coiffé d'un casque de type homologué. Ce casque doit être attaché.
Le fait, pour tout conducteur ou passager, de contrevenir aux dispositions du présent article est puni de l'amende prévue pour les contraventions de la quatrième classe.
Conformément à l'article L. 431-1, le véhicule à deux roues à moteur dont le conducteur circule sans être coiffé d'un casque de type homologué ou sans que ce casque soit attaché peut être immobilisé dans les conditions prévues aux articles L. 325-1 à L. 325-3.
Lorsque cette contravention est commise par le conducteur, elle donne lieu de plein droit à la réduction de trois points du permis de conduire.
Les dispositions du présent article ne sont pas applicables aux conducteurs ou passagers portant la ceinture de sécurité lorsque le véhicule a été réceptionné avec ce dispositif.